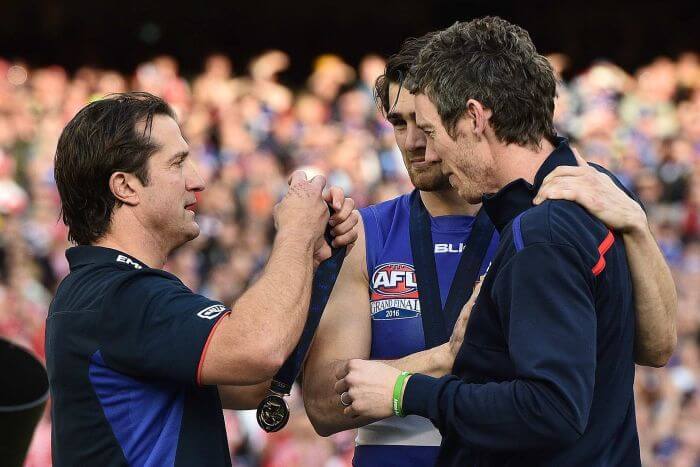 "This is yours mate, you deserve it more than anyone"
The moment on Saturday the 1st of October 2016 when Luke Beveridge – coach of the Western Bulldogs in the Australian Football League – called Bob Murphy to the podium and draped his own premiership medal around the injured captain's neck is one which will go down in Australian football history.
But I hope at some stage someone subtly ensures that another medal is produced and the Western Bulldogs' coach does end up with a lasting personal memento of a famous victory. Because as selfless and passionate a gesture as Beveridge made, and as much respect as Bob Murphy has within the world of football, I'm not sure anyone actually does deserve a medal more than the man who masterminded this unlikely result.
There is absolutely no doubt that this was one of the great coaching performances. In fact, journalists who were present to witness the drama unfold have described Beveridge's performance as perhaps the single greatest coaching performance of all time.
Whether people choose to interpret his performance as the single best or one of many great coaching performances, one thing is certain, we would not have been talking about this victory had Beveridge been unable to understand and control his own emotions and those of his players.
The Science
Psychologists have described the ability to recognize and regulate emotions in ourselves and others as emotional intelligence (EQ). Emotional intelligence, when placed into the context of the sporting world, can be described by drawing on Daniel Goleman's ground-breaking work. Goleman – the so-called godfather of emotional intelligence – discussed EQ in terms of a theory of performance based on emotional competencies. Over the past 15 years, Martyn Newman – an emotional intelligence expert and leading psychologist in both sport and organisational psychology – built on Goleman's work and through his research, identified a new model of emotional intelligence –emotional capital. This model is specifically related to 10 emotional competencies that he identified as being characteristic of high performing leaders. These are: self-knowing, self-confidence, self-reliance, self-actualisation, straightforwardness, empathy, relationship skills, adaptability, self-control and optimism.
Since identifying these competencies as being particularly key to successful leadership, Newman designed a tool to measure them – the Emotional Capital Report (ECR TM). The ECRTM is a survey tool and provides an efficient and valid assessment of the emotional intelligence factors that support effective leadership behaviours. But it doesn't stop there. Newman also developed a multi-rater edition – the ECR 360TM. The ECR 360 TM uses an online multi-rater method and, through the combination of responses from colleagues, assesses a global Total Emotional Capital score and scores on 10 emotional and social competencies. The ECR and the ECR 360 continue to be implemented by major corporate organisations around the world, as well as by practitioners working with sports coaches to develop leadership effectiveness.
Throughout the course of the 2015/2016 AFL season, but particularly during the culmination of the 2016 Grand Final, it became crystal clear to me that Luke Beveridge possesses stocks of emotional intelligence in the majority of the 10 areas identified by Martyn Newman. Let's take self-reliance as an example. Emotionally intelligent leaders have the power to be self-reliant in developing ideas and making tough decisions. They harness the power and responsibility to choose between options and make decisions that matter. There is no doubt that Beveridge is a self-reliant leader. You just need to cast your mind back to last season when he dropped Jack Macrae, who was a leading Bulldogs midfielder. Beveridge made the difficult decision to drop Macrae as he wasn't paying attention to the defensive side of his game. This was a display of self-reliance by the coach that ultimately benefited the performance of the team. Macrae learnt his lesson, returned to the team and this year was a midfield rock.
But perhaps the most powerful feature of Beveridge's coaching style is his man management and ability to strike up productive relationships with his players. From an onlooker looking in, it appears that Beveridge has taken the art of man management and coach-player relationships to a new level this year. And how has he done this? Quite simply through clear direction, empathy and care. These emotional and social competencies, which Martyn Newman described in his emotional capital model as straightforwardness, empathy and relationship skills, have enabled Beveridge to gain the commitment and support of his players, which ultimately created a cohesive unit and culminated in making the impossible possible.
By Joe Davis
Research Assistant
Measure your
Emotional Intelligence today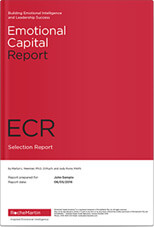 Measure Emotional Intelligence as it pertains to effective leadership accurately and quickly using the most advanced, global, scientific measure – The Emotional Capital Report (ECR).