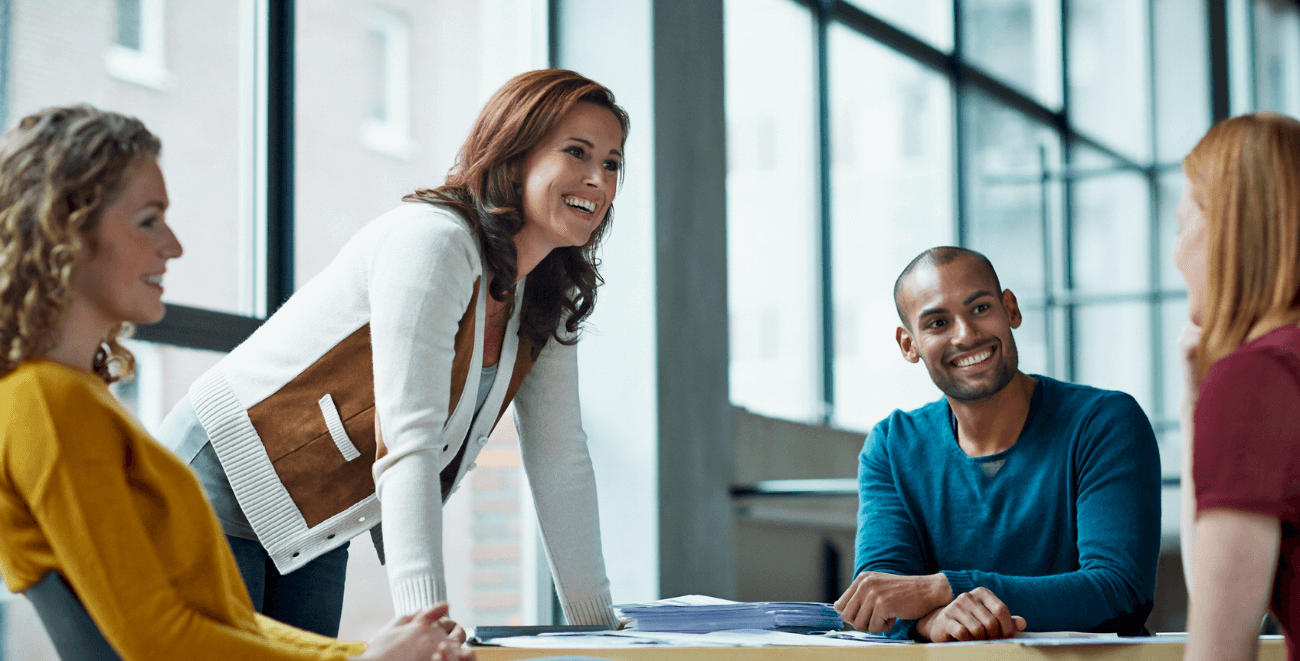 Emotional intelligence certification is the most effective way to acquire the know-how to build an emotionally intelligent organisation, improve team performance and create a culture that delivers.
The insights it offers are ideal for business leaders and HR teams wondering how to adapt to hybrid working. Those insights can also be used to devise effective talent development programmes, increase your recruitment success rate, deliver extra commercial revenue and boost employee satisfaction levels.
In this guide, we'll look at the origins of Emotional Intelligence, the tools you can use to measure Emotional Intelligence, the benefits of Emotional Intelligence certification in business and leadership performance, and how you can enrol on an Emotional Intelligence course.
Emotional Intelligence: a brief introduction
Over the last three decades, Emotional Intelligence has emerged as a scientifically robust way of measuring and developing the skills we need to best manage and leverage our emotions in a way that improves the performance of both ourselves and those around us.
First, the pioneering work of Reuven Bar-On, John Mayer (University of New Hampshire) and Peter Salovey (Yale University) laid the foundation. Then Daniel Goleman helped to popularise Emotional Intelligence even further.
In his book Emotional Capitalists, RocheMartin founder Dr Martyn Newman writes:
"Emotions determine whether or not people will work well for you, buy from you, employ you and enter into business with you… (So) A new and more critical asset to bottom line performance has emerged - emotional capital."
Today, building on the very latest academic and psychological research, Emotional Intelligence is a cornerstone of some of the world's most successful leaders and organisations. As one of the world's leaders in the measurement, training and certification of Emotional Intelligence, RocheMartin has analysed more than a decade of empirical research to determine the 10 practical competencies needed for high-performing Emotional Intelligence.

The 10 core emotional capital competencies
Emotional Intelligence certification from RocheMartin focuses on teaching executive coaches, HR consultants, business leaders and private individuals how to develop and strengthen their performance across 10 key competencies. They are:
1. Self-Knowing
Being able to recognise how your feelings and emotions impact your opinions, attitudes and judgements.
2. Self-Confidence
Are you able to respect and like yourself, and do you believe in your overall performance?
3. Self-Reliance
Are you willing and ready to take responsibility for yourself and the judgements you make on a day-to-day basis? Can you make significant decisions?
4. Straightforwardness
Can you explain your feelings and perspectives in a clear, straightforward manner - while being able to completely respect that others may see things differently? Can you formulate clear messages to challenge the views of others?
5. Self-Actualisation
Can you manage your emotional energy and maintain an effective work/life balance? Setting challenging goals - and then thriving under those targets - is a key indicator. So too are high levels of enthusiasm.
6. Relationship Skills
Can you build and maintain collaborative relationships characterized by positive expectations?
7. Empathy
Can you create resonant connections with others and instinctively appreciate the emotional dimensions of what may at first appear to be a business decision?
8. Adaptability
Are you able to change your course, particularly with regards to your thoughts, feelings and actions, when new circumstances emerge?
9. Optimism
When others are seeing only challenges and negativity, are you able to identify opportunities, see the bigger picture and maintain your resilience?
10. Self-Control
Can you take yourself out of the heat of a situation and restrain your actions until you have had time to think and reflect in a more rational way?

Tools for measuring Emotional Intelligence
Identifying the core competencies involved in Emotional Intelligence is only the first step of being able to help leaders and teams achieve higher levels of performance. To be certain of the advances being made, those competencies must be accurately measured and monitored, with progress being clearly identifiable.
People enrolled on an Emotional Intelligence certification from RocheMartin receive access to three key tools for measuring and reporting on Emotional Intelligence.
Emotional Capital Report (ECR) Self Report
ECR 360 Multi-Rater Report
SmartCoach
Emotional Capital Report (ECR) Self Report
The ECR Self Report allows an individual to assess their key skills in emotional intelligence in just 15 minutes. Crucially, it provides a comprehensive interpretation of their leadership potential and specific scores that can be benchmarked when they complete the test again at a future date.
If you have ambitions to lead a high-performing organisation, or you're already in a senior leadership position and want to secure better results by improving your all-round performance, the ECR is a critical piece of your professional toolkit.
It provides you with 19 pages of powerful coaching strategies to improve both your Emotional Intelligence and your leadership abilities. An action plan is also included, giving you a bespoke framework to help you to plan the growth in your emotional capital and accurately monitor the progress you achieve.
Completing our Emotional Intelligence certification will give you the strongest possible platform from which to undertake the ECR Self Report.
"The ECR is the best test system I've seen. I recommend it with my head and my heart."

Professor Bertil Mardberg, University of Gothenburg
ECR 360 Multi-Rater Report
The ECR 360 Multi-Rater Report brings extra depth to your understanding of your own Emotional Intelligence.
By taking responses from your colleagues as well as yourself, it produces a detailed report into the differences of how you perceive your Emotional Intelligence compared to those around you. Qualitative research is also included, with a Verbatim Section recording the word-for-word responses of your colleagues.
As well as being used by business leaders, it is also commonly used by executive coaches, giving them the framework to provide valuable insights and feedback to their clients.
The ECR 360 is completed either online (ideal for business leaders, who can receive their report directly in their email) or in a personal coaching session between a certified Emotional Intelligence coach and their client.
SmartCoach
Across seven Emotional Intelligence modules, SmartCoach provides an online coaching platform that allows you to build your leadership effectiveness from anywhere in the world.
Users can access direct guidance and expertise on building their optimism, self-reliance, straightforwardness, self-confidence, relationship skills, self-actualisation and empathy.
Video content is provided from world-leading psychologist Dr Martyn Newman, with interactive modules keeping you engaged throughout your learning and downloadable tips helping you to transfer your learnings into the workplace.
"SmartCoach (is) a very effective way to reinforce face-to-face learnings and promote positive leadership behaviour... The tool is more integrated and personally engaging than other e-learning programs we've seen."

Michael Fuller, HR Manager, Quicksilver Australia
Who can benefit from an Emotional Intelligence Certification?
RocheMartin Emotional Intelligence certifications are targeted at four different groups.
Corporate leaders
HR professionals
Coaches and consultants
Private individuals
Each group benefits in different ways from the insights and future frameworks provided by thorough and effective Emotional Intelligence assessments.
Corporate leaders
What advantages does Emotional Intelligence offer?
Emotional Intelligence training and certification enables business leaders to be the best possible version of themselves. It has been proven to deliver consistent results in high-pressure and complex business environments. Happier employees, higher retention rates and increased commercial performance can all be correlated with exceptional Emotional Intelligence in the workplace.
Emotional Intelligence is also an effective way to bridge generational gaps that may exist between senior leaders and junior employees who may be in the early years of their careers.
Dr Martyn Newman says: "Business is typically led by a generation of people who were less environmentally, socially and emotionally conscious when they cut their teeth in leadership skills. So they've been slower to recognise and understand that there's been a remarkable shift in consciousness over the last decade.
"We're not dealing any longer with industrial-age capitalism, where competition, self interest and profit maximisation have been the driving focus of business. We're now dealing with a new generation of people for whom social, environmental and emotional consciousness is the new mindset in which they thrive."
What are a corporate leader's typical use cases for Emotional Intelligence?
Corporate leaders can harness an EI certification to build an emotionally intelligent organisation, enhance and improve overall team performance, and create a culture that consistently delivers the results that matter.
Furthermore, they can encourage better mental health in the workplace simply by encouraging self-reliance. Learning how to do this, in yourself and in others, is a core part of a RocheMartin Emotional Intelligence certification. For example, by asking your colleagues or employees how they think a situation should be handled, you are giving them a level of control that can be crucial for fostering robust psychological profiles.
Strong Emotional Intelligence capabilities also gives business leaders the ability to build self-actualisation among their colleagues. By creating a vivid sense of destiny and the company is going, you give your employees the chance to buy into the plan and provide their own motivation to succeed.
Demonstrating empathy is also a crucial part of a leader's skillset. Most people long to be understood. By taking the time to listen to your employees and appreciate their feelings and perspectives, you are likely to improve their workplace satisfaction and overall levels of performance.
HR professionals
What advantages does Emotional Intelligence offer?
HR professionals who are certified in Emotional Intelligence enjoy several advantages. By using reports like the ECR 360, they can have confidence they are using a system built specifically for the business environment.
Tools like the ECR can help them establish an accurate measurement of Emotional Intelligence across the organisation. They will also be equipped with the necessary knowledge of the tactics, strategies and building blocks they'll need to help modify behaviours across the business's senior team.
And with 71% of employers valuing emotional intelligence over IQ, HR professionals who are well versed in EQ can help to make strategic and more valuable recruitment choices. Talent identification becomes much more accurate with a defined Emotional Intelligence assessment supporting your traditional efforts.
What are a HR professional's typical use cases for Emotional Intelligence?
Built on data from 150,000 business leaders, RocheMartin's Emotional Intelligence tools give HR leaders the perfect context in which to plot and enable the progress of leadership development across their organisation.
Strong knowledge and understanding of Emotional Intelligence also helps HR teams build the supportive frameworks necessary to maximise the mental health of a workforce.
And in three further ways, Emotional Intelligence enables a cohesion, trust and welcoming atmosphere to develop across an organisation. It can help HR leaders to manage multi-generational talent, enable the diversity and inclusion that is essential to any successful modern-day business, and move company values from a passing distraction to daily lived experiences at the core of the employee's experience.
Coaches and consultants
What advantages does Emotional Intelligence offer?
An Emotional Intelligence certification can prove a vital point of differentiation for coaches and consultants operating in a crowded market with few - if any - formal entry requirements. A certification immediately positions your business as being capable of supporting large organisations and senior business leaders
By having a formal framework of competencies on which to assess and then report, you provide clear value to clients who are looking to demonstrably enhance their leadership skills. Certification instantly boosts your credibility and brings trust to your business. It also enables you to access a range of RocheMartin tools and case studies that can help you to secure more clients and grow your business. Those tools include:
Presentations
Frameworks
Transformational Assessment methodology
Case studies
Ongoing seminars
Alumni network
An 18-page coaching manual to supplement your use of the ECR
What are a coach's or consultant's typical use cases for Emotional Intelligence?
The unique reporting and measurement of Emotional Intelligence available through the ECR means RocheMartin certification gives coaches and consultants the opportunity to tie their clients into longer-term engagements. By being able to revisit a client's scores and plot their progress against clear measurements, you are offering a distinct ROI and building stronger foundations for enduring business success.
And by having access to robust, rigorous and scientifically-proven coaching methods, you are standing as a beacon of quality, dependability and value in an industry packed with a continuous flood of new and unproven entrants.
RocheMartin certified coach Dr Mary Collins has experienced this exact scenario. She says: "It works really well, because they (medical consultants) value the evidence-based nature of it and like getting their individual data."
Private individuals
What advantages does Emotional Intelligence offer?
Having a good understanding of Emotional Intelligence is a clear advantage for ambitious individuals who may not yet have reached senior leadership positions but have high aspirations for their professional careers.
Tools and reports such as the ECR and SmartCoach give an individual a comprehensive and nuanced understanding of their existing strengths and weaknesses. This helps them to identify on which areas they need to work and maximises their chances of realising their potential.
Being able to track and measure your progress across 10 core competencies enables you to track and measure your progress with relative ease.
What are an individual's typical use cases for Emotional Intelligence?
The ECR can provide individuals with the insights they need to advance their careers. It can build their individual leadership brand and voice, and help them to develop the tools and tactics that drive better performance from their teams - both now and in the future.
Certified RocheMartin coach John Conway saw this unfold first-hand with one of his clients. He says: "The ECR 360 feedback was quite stark, but it provided the spark for her to engage seriously with a coaching programme. She worked exceptionally hard on her personal development and within 12 months she'd secured her senior appointment."
What are the typical use cases of Emotional Intelligence in corporate environments?
The impact of Emotional Intelligence in corporate environments has been proven repeatedly.
At aerospace giants Boeing, for example, RocheMartin helped to oversee dramatic increases in Emotional Intelligence during a remarkable two-year leadership development programme. A group of senior executives, made up entirely of ex-Air Force pilots, improved its emotional capital by 7% in Year 1 and a further 9% in Year 2.
Increases were tracked in all 10 core competencies, with dramatic improvements measured in adaptability and empathy. A gain in flexibility encouraged a needed shift of enhanced creativity and empowerment. All participants also reported a reduction in their stress levels.
Boeing HR director Sandra James told the full story to the Sunday Times, complementing the programme for being grounded in rigorous science and robust technology - two factors of significant appeal to Boeing's leaders.
HR professionals commonly use their Emotional Intelligence certifications to help devise effective recruitment programmes. The same principles are often then applied in graduate leadership development programmes and change management strategies.
At Sky, Europe's largest media company, Emotional Intelligence has delivered better leadership, innovation and productivity through a compelling talent management and development programme. More than 500 executives completed the programme in its first two years. Significant growth was achieved in all areas of Emotional Intelligence, leading to tangible business outcomes such as better decision making and stress management.
Ralphy Tribe, Sky's Director for People, says: "Dr Martyn Newman is an inspiring authority on Emotional Intelligence. The ECR has proven to be a powerful tool in Sky's 'Better Self' leadership programme. I'm delighted to say this continues to be one of the most acclaimed and effective leadership programmes at Sky to date."
Effective executive coaching is another key use case for Emotional Intelligence certifications. Singtel grew its business across APAC on the back of a partnership with RocheMartin that delivered a 16% increase in leadership engagement and a 12% boost in customer engagement.
At Mars Inc, Global Growth Acceleration Director Maria Grigorova is another to stand by the benefits of Emotional Intelligence. She says: "What does self-confidence mean? What does empathy mean? What does it take to build powerful relationships? The ECR gives you a very clear structure. All of these competencies can be measured and you can manage the development progress."
Emotional Intelligence has also been used to deliver advanced negotiation skills and ongoing wellness and wellbeing programmes.
How can you gain an Emotional Intelligence certification?
RocheMartin offers three different paths to Emotional Intelligence certification.
Online learning
Live webinars
In-person workshops
Online learning
Our digital course provides you with an opportunity to learn at your own pace and convenience. Simply log in, watch the recorded classes - all of which have been devised and delivered by Dr Martyn Newman - and complete the necessary coursework.
Workbooks, technical manuals, video and Card Sort activities provide variety in your teaching methods. Your assessment methods are mixed between online and real-world exercises.
Live webinars
Our live webinar certification course sees you log in for four scheduled half-day webinars (the equivalent of our two-day certification workshop). As with our online learning option, you'll experience a variety of teaching methods and have access to ECR 360 Feedback Webinars, which are designed to support your continued professional development through an exclusive alumni membership.
Session One introduces you to the range of ECRs available, explores the very nature of Emotional Intelligence and provides you with a deep understanding of its history.
In Session Two, you take a deep look at the 10 core competencies that make up Emotional Intelligence and develop the skills to assess and interpret a range of ECR profiles.
Session Three includes a review of your ECR Self Report and practical tips for delivering ECR feedback, including our Transformation Assessment methodology, before Session Four explores the ECR 360 Multi-Rater Report and explains how to build the business case for Emotional Intelligence.
Two-day workshops
These events cover the same material as our live webinar teachings, as well as offering the opportunity of valuable in-person networking with like-minded peers from other organisations.
What makes an Emotional Intelligence certification from RocheMartin so different?
RocheMartin's tools and methodologies are founded at the intersection of academia and business. Our approach is grounded in the very latest psychological research and those completing our certifications receive access to supporting materials that are unmatched anywhere in the world.
You'll enjoy the flexibility to study where and when you like, whether that's from the comfort of your own home outside of working hours or at one of our in-person workshops. So if you don't want to travel, you're still 100% able to complete exactly the same course as our in-person students. There is no difference in the material you will cover or the certification you will receive.
As a RocheMartin certified practitioner, you'll have access to the ECR - arguably the world's most advanced EQ tool - and a powerful, extensive and supportive global alumni network. Ongoing advice and thought leadership will also be provided direct from RocheMartin's founders and senior executives.
Start today. Enrol on a RocheMartin Emotional Intelligence Certification course and take your first steps to realising the full potential of yourself, your colleagues, your clients and your business.