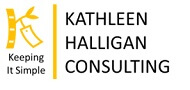 Industry
We work with all industries and sectors, from individual start-ups to global multi-nationals. We work with both private and public sector companies and organisations.
Regions served
All Regions
Services
Coaching
Executive Coaching
Team Coaching
Leadership Development
DEI Training
Talent Management
Culture Development
Diversity and Inclusion
Emotional Intelligence
Women As Leaders
Change Management
Kathleen Halligan Consulting
We provide Organisation Design & Development consulting; Leadership & Management Development programmes; and Individual & Team coaching.
Founded in 2018, our company is grounded in Work and Organisational Psychology.
A chartered Work & Organisational Psychologist and seasoned HR Strategist, Kathleen has over 30 years' experience partnering with senior business leaders across a wide range of sectors, industries, and geographies, to deliver sustainable change programmes. Specialising in Organisation Effectiveness and Talent Development strategy, Kathleen has led the successful implementation of a broad range of Organisation, Leadership and Team development programmes.
Kathleen's approach is simple, seek first to understand the need of the client and then meet them where they are at with tailored, sustainable solutions designed to deliver well defined measurable outcomes.
Services
Emotional Intelligence
Research has evidenced the vital role that emotional intelligence plays in effective functioning, and especially leadership, in the world of work. We integrate the Roche Martin Emotional capital reports into our development and coaching programmes, to enable employees and leaders to appreciate, and develop their core emotional competences.
Coaching
Helping Organisations & Individuals unleash potential and thrive is our mission. Coaching is one of the primary methods we use to help individuals and teams identify where they want to go to, and how, using their own abilities and cabilities they will get there.
Executive Coaching
We work with executives who often have to lead in complex systems, where the focus is on organisational performance and development, yet the challenges often have a personal component to them. We accelerates the leader's progress by providing greater focus and awareness of possibilities leading to more effective choices.
Team Coaching
Working with an intact team who at any given stage in the team formation cycle i.e. forming, storming, norming, performing, to enable them to move forward and sustain performance.
Leadership Development
We partner with you to design a leadership and talent development strategy that is fit for your purpose. With over 25 years experience in facilitating Leadership and Management development programmes, we work with you to design your flagship development programmes.
DEI Training
Recognition of diversity, equity, and being inclusive, is implicit in all our programmes. To this end we offer a range of masterclasses and programmes to help raise awareness and bring about organisational culture change in this space.
Talent Management
We work with you to design the Talent Development strategy and associated programmes that will ensure a strong and agile talent pipeline
Culture Development
We work with you to conduct a culture and values audit; run workshops to help you define the culture to support your business model and define the under pinning values; design workshops to help embed the values in the organisation and so aid the development of the "right" culture.
Diversity and Inclusion
We partner with you to firstly understand what your organisational goals are with respect to diversity and inclusion and the associated outcome. We then work with you to analyse how well you measure up as a company with regards to these D&I goals. And finally we partner with you to implement a strategy and practices to ensure that you achieve your D&I goals and respective outcomes.
Change Management
Having led global People Development and OD functions, Kathleen is passionate about enabling Organisations, Teams, and Employees to get the best from each other, using evidence based and innovative practices to help deliver the desired outcomes. We use before action reviews as a key means of learning from previous change, to optimise future change initiatives.