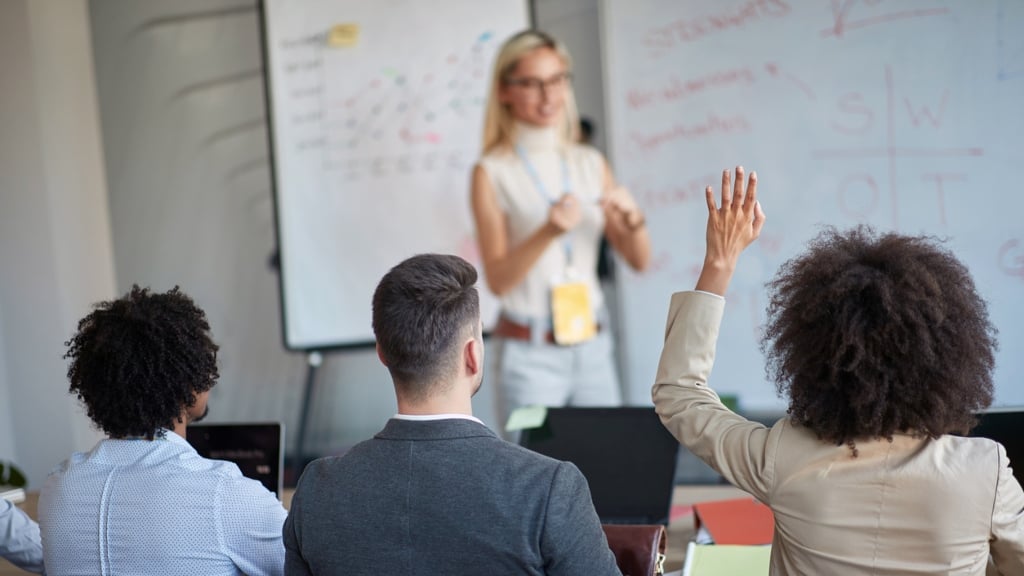 Once you're a fully-fledged Emotional Intelligence certified coach, you'll want to make the most of your accreditation to reap the growth benefits.
But how do you get started? Is there a framework to follow? And how can you implement a long-term continuous improvement programme?
We'll outline the practical ways you can deliver Emotional Intelligence (EQ) training and why successful coaches leverage the Emotional Capital Report (ECR) to gain long-term client buy-in.
4 steps to secure long-term clients
Knowing where to start can be a challenge without the right framework. That's why we've put together a 4-step roadmap to help you build a successful, profitable and enjoyable coaching or consultancy business that will fulfil both your professional and financial ambitions.
Step 1: Identify the key challenge
Before building an Emotional Intelligence programme for your clients, you need to identify their specific challenges. This will enable you to target the right application of Emotional Intelligence and increases initial buy-in and successful implementation.
Once you have identified their specific challenges, there are a variety of ways you can leverage your Emotional Intelligence coaching skills to add value to your clients.
Essentially, you need to give them a 'why'. With this, they can actively buy into the concept of (and reasoning behind) Emotional Intelligence skills development.
Without it, you could lack strong and early engagement from your participants and your coaching programme might not achieve its aim
Here are five examples of what you can facilitate.
Mental health support
Mental health support - enables teams to learn the building blocks of resilience in the workplace.
How the ECR helps: The ECR helps identify symptoms of psychological stress. For example, depression can show through declining levels of self-confidence.
Improve business culture
Create an authentic business culture to help your clients define company beliefs and embed them in professional conduct. A vibrant company culture will nurture strong employee relationships and increase staff retention rates.
How the ECR helps: We often find that leaders create the company culture. The ECR enables businesses to assess leaders against the 10 competencies of effective leadership to help develop critical skills and drive overall business performance.
Increase diversity and inclusion
By encouraging team members to understand their colleagues better through Emotional Intelligence, you can bring out the best in people and celebrate your clients' unique skills and strengths.
How the ECR helps: The ECR measures levels of empathy which are key to building a trusting environment where team members feel valued.
Attract
industry-leading talent
Attract and retain industry-leading talent to positions at all levels of an organisation's structure.
How the ECR helps: The ECR helps to find candidates with similar traits to the hiring organisation, which helps with both retention and finding the right fit candidates who can deliver sustained, long-term results.
Enhance sales performance
You can even help with enhancing sales performance by helping sales teams develop skills like empathy and how to become better negotiators.
How the ECR helps: Sales teams encounter inevitable setbacks and challenges. The ECR helps to measure resilience and provides the mental tools they need to continue to perform.
Step 2: Build a connection with your client
Once you've identified where you can help support your client's biggest needs, you can start to build a connection with your client. Central to this is the Emotional Capital Report (ECR).
Emotional Intelligence, as measured by the Emotional Capital Report (ECR), offers one thing that so many books, frameworks and coaching programmes cannot: scientific and academic rigour.
In fact, our research has proven that this practice actually changes people's behaviour in measurable ways. What's more, those changes happen much quicker than coaching alone. It will make your coaching and training much more effective and will save you a lot of time and money.
Coaches leverage Emotional Intelligence assessments like the ECR and ECR 360 to give business leaders an understanding of where to start in their Emotional Intelligence journey and enable them to monitor and measure their progress as they continue with their training. Being able to see clear forward momentum is highly motivating.
Take a look at this video to find out more about how this works and why:
Step 3: Engage your clients through development plans
Once you have taken your client through the ECR, it builds a foundation for better engagement going forwards and sets you up to create tailored Emotional Intelligence development plans.
In addition, participants will have access to online SmartCoach modules - RocheMartin's training tool - which gives individuals the ability to continuously develop Emotional Intelligence over time. These include engaging video content featuring Dr Martyn Newman, as well as quizzes, and downloadable 'smart tips'.
You can also access goal-setting and tracking tools which can form an integral part of your coaching programme. You should then evaluate individuals' progress against their personal development plans and create a final action plan. A group workshop is suggested for teams or enterprise-level engagements.
Step 4: Measure, track and assess clients' progress
If that's not enough, the benchmarks and insights that power both the ECR and the ECR 360 reports, enable you to measure, assess, and track clients' Emotional Intelligence progress clearly.
That's why we recommend you conduct a second ECR test with all your participants six months after the start of your engagement. This will show the specific progress your participants have made across each of the 10 Emotional Intelligence competencies to help prove ROI.
Reports summarising these improvements, as well as recommendations to enhance the programme in subsequent years, provide your clients with enormous value.
It's a win-win for both you and your client. Being able to see clear forward momentum is hugely motivating for the client. Coaches find this gives them the opportunity to develop ongoing and long-lasting client relationships.
"I keep coming back to RocheMartin because the tools are so simple. There are 10 competencies. They're easy to understand. My clients like the graphs. The tools look good. It's accessible, and I love all the information behind the ECR 360. The planner at the end is very nice to set out goals and reminders. And the portal has never let me down. It just works."

Barbara Nugent, Transilient Coaching Limited and EQ
Your next steps
Adding Emotional Intelligence services to your coaching business is the single biggest advance you could make. If you're in the process of embedding Emotional Intelligence training into your client's leadership development programme, the steps in this post should help you overcome any internal resistance and challenges.
If you're seeking ideas for how to deliver ECR assessments at scale or implement a long-term continuous programme using the ECR with one or more of your clients (or anything else), please feel free to reach out to us.
We can talk you through exactly how we implemented Emotional Intelligence training with the likes of Boeing, Sky, and Oracle using the ECR.