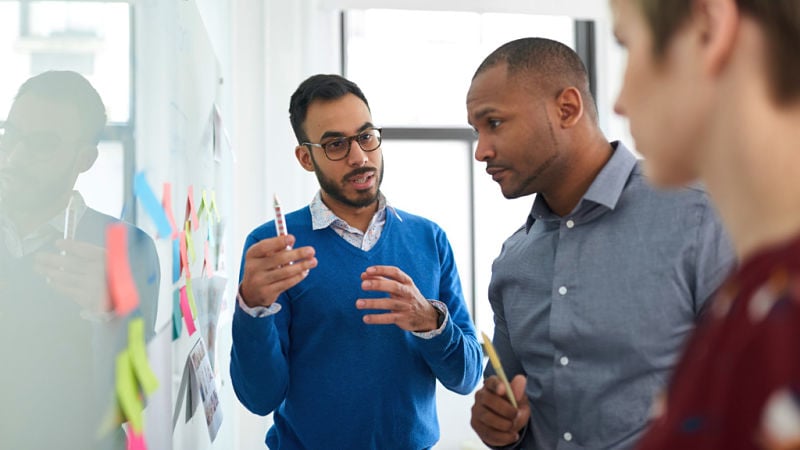 In an increasingly complex world, how do you effectively plan for the success of both your organization and its senior leaders? And how do you assess the almost limitless possibilities to confidently identify the key skills your leaders will need?
Those are now two of the key questions facing HR directors and others charged with devising and delivering world-class leadership development programmes. Thankfully, the answers are increasingly clear.
For many years, Emotional Intelligence was the missing piece of leadership programmes. It was overlooked or dismissed -- with disastrous consequences. Because as both academic research and real-world experience has now proved, Emotional Intelligence is the most effective and powerful tool a leader can have to improve teamwork, productivity and overall performance.
This post will show you how to take control of your organisation's destiny by successfully instilling effective Emotional Intelligence training into the heart of your leadership programme. And you'll discover the powerful benefits that come to those who do.
Outstanding profitability and enduring financial success. In Firms of Endearment, Raj Sisodia identified 72 companies built on the principles of Emotional Intelligence. Over 15 years, that collection of companies outperformed the S&P 500 by a factor of 10.5 times (even through the 2008 global financial crisis).
The ability to attract and retain industry-leading talent and develop a world-class reputation. "Today the key differentiator is not technical capacity, products or price points," says Dr Martyn Newman, a clinical and corporate psychologist and the founder and chairman of RocheMartin. "It lies entirely in the skills of social and Emotional Intelligence."
Proven pathways to success. In peer-reviewed research assessing the world's most effective leaders, 10 skills show up over and over again. These 10 competencies form the foundation of Emotional Intelligence. If your company wants to grow and be successful, these skills need to be prevalent in all of your leaders and future leaders.
What are the key benefits of investing in Emotional Intelligence training?
We know that organizations thrive when Emotional Intelligence is built into their day-to-day operations. But on an individual level, leaders equipped with strong Emotional Intelligence skills are also standout performers. They are adept at:
Managing diverse and multi-generational teams with empathy and understanding, which in turn allows your business to flourish and attract a new cohort of talent that is increasingly focused on social consciousness.
Supporting mental health in the workforce with appropriate frameworks and an encouragement of self-reliance, which enables employees to feel valued, trusted and safe in their professional environment.
Moving company values into a daily lived experience, bringing crucial alignment between what your company says and what it does - which is vital for businesses looking to attract employees who will stay for the long term.
Building cohesion, trust, effectiveness and a welcoming atmosphere, which enables teams to flourish and provides an environment in which productive work can happen consistently and at speed.
Increasing employee satisfaction, retention rates, engagement levels and commercial performance, all of which make significant contributions to an organization's enduring success.
Developing self-actualisation among the workforce, a key motivational tool that enables employees to feel engaged, valued and respected in their day-to-day activities.
Showing enhanced negotiation skills, which allows your organisation to consistently reap the benefits of the trust and relationships your Emotionally Intelligent leaders and sales professionals develop.
Being better able to focus and manage their mood, which creates a productive and welcoming workplace and sets a positive example to other employees.
How can you establish buy-in for Emotional Intelligence training?
Taking the decision to incorporate Emotional Intelligence training into your leadership programme is only the first stage of the process. For it to be a success, you will need widespread support of the organisation and a willingness among leaders to embrace new sets of priorities that enable the entire group to flourish.
First, you should provide the data and evidence to show why Emotional Intelligence is so important. By highlighting the peer-reviewed evidence of the connections between Emotional Intelligence and overall business performance, you can strengthen the likelihood of securing senior buy-in early on in the process.
Showing that progress is clearly measurable, through Emotional Intelligence products like the Emotional Capital Report (ECR) Self Report, ECR 360 Multi-Rater Report and SmartCoach, is also vital. It reassures sceptical employees that Emotional Intelligence is based on cutting-edge science. And RocheMartin's own credentials, including our 150,000+ leader profiles, 15 years of research and clear ROI tracking, further strengthen this case.
At aerospace giant Boeing, for example, our use of rigorous science and robust technology appealed to the organisation's leaders. A group of senior executives, all of whom were ex-Air Force pilots, showed remarkable -- and measurable -- progress during a two-year leadership development programme delivered by RocheMartin.
As you train your first employees in Emotional Intelligence, it is best to start small and gather both qualitative and quantitative feedback. Show participants their progress through the ECR Self Report. Then find positive supporters who will spread the word across the organisation. As momentum starts to grow, you will naturally see a change as people begin to actively seek out Emotional Intelligence training as part of their continuous professional development.
What is the best way to provide Emotional Intelligence training?
RocheMartin's Emotional Intelligence training focuses on the 10 core competencies that more than 15 years of research have established as critical for leaders to succeed in the 21st century. Our programmes are delivered through live face-to-face or virtual formats and supported by a digital learning management system. All programmes are available in modular form to ensure maximum flexibility. They include:
Keynote/seminars, which show participants the latest research establishing the scientific foundations of Emotional Intelligence, along with compelling business case applications. Sessions include Q&A opportunities and are designed both to inform and fully engage critical audiences, as well as create enduring motivation and commitment to personal development.
Assessment and coaching feedback, with Emotional Intelligence benchmarked using the ECR – the international 'gold standard' for measuring emotional intelligence in professional people. Results are discussed using a proprietary Transformational Assessment methodology designed to accelerate skill integration and create an individualised action plan.
Learning management system, featuring interactive online modules that deconstruct, and provide a step-by-step guide for acquiring, the Emotional Intelligence competencies. Modules lead participants through a process based on real workplace challenges. All our digital learning is delivered by Dr Martyn Newman, so participants are learning directly from a world-renowned expert.
Executive coaching from RocheMartin's highly qualified team of EQ coaches, who provide face-to-face, virtual and telephone support to ensure learning addresses particular leadership challenges and core performance issues. EQ coaching provides sustained, focused motivation to achieve targeted outcomes and objective performance appraisal throughout the leadership programme.
Emotional Capital seminars and workshops, which focus on each competency and provide both tactical and strategic skill application to particular business challenges to ensure positive impact across the organisation's culture. Examples include Building Relationship Skills and Building Resilient Leadership Teams.
Change evaluation and ROI measurement. A comprehensive evaluation of each component of the programme, including 'before' and 'after' comparison of EQ competencies, is provided at various points in the programme. Measuring progress is designed to consolidate the gains in EQ, sustain motivation and, ultimately, provide a framework for measuring ROI.
How can you assess if your Emotional Intelligence training has had an impact?
All emotionally intelligent organisations share common characteristics. Their people are resilient, adaptable, trusted and high performing. As a result, the overall organisation is normally profitable and secure.
RocheMartin's Emotional Intelligence products are designed to enable both individuals and organisations to track the long-term ROI of their Emotional Intelligence training investment. Tools such as the ECR Self-Report measure the leader's capabilities in each of the 10 core competencies on which we focus. Over time, the gains are clear to see and easy to track.
In the UK, SKY CEO Jeremy Darroch says: "We're making better business decisions and we're drawing more from the difference and breadth of the organisation. We're managing tensions much better today than in the past. It's also had a big effect on the internal dynamics of the business. It's a better place to work and when you put those two things together, it starts to sustain and repeat.
"One of the great things about the ECR Report is that it puts a lot of these concepts into the language of business and a lot of people respond very well to that. They typically like to see things rated and scaled, and it's very easy from there to establish a base from which we can look at progress."
In Asia, Singtel saw its business grow across APAC after partnering with RocheMartin. It recorded a 16% jump in leadership engagement and a 12% leap in customer engagement.
The evidence is clear. The science is robust. And the technology and tools are now easier to access than ever before.
Make Emotional Intelligence training part of your leadership development programme today.