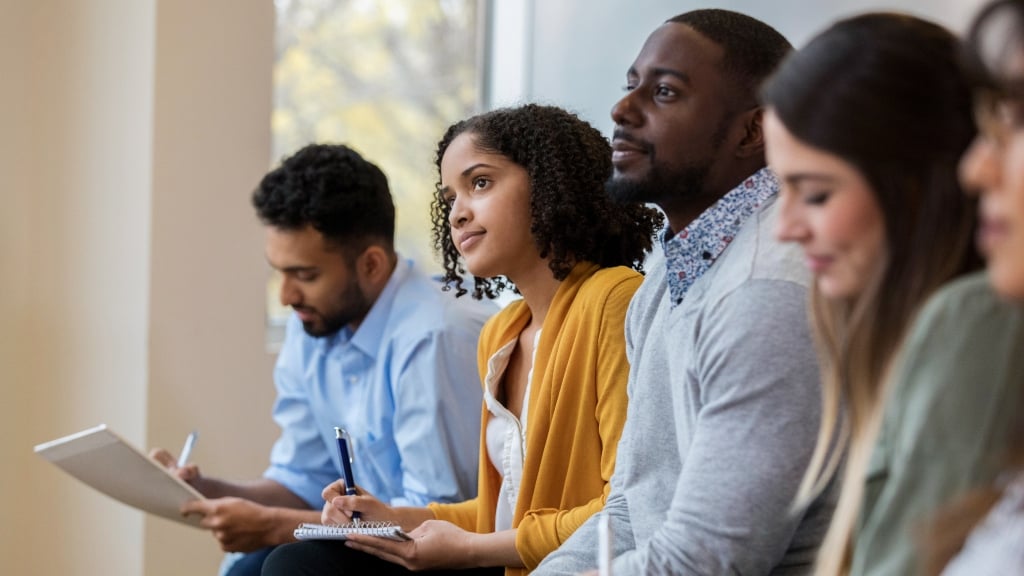 You've heard all the buzz and excitement. Maybe you've even had recommendations from friends and peers in other companies. But as a HR or business leader, you might still be asking yourself one question over and over again: does Emotional Intelligence training really work?
The answer, resoundingly, is yes. But don't just take our word for it. In this article, we'll guide you through the years of scientific and academic research that provides concrete, peer-reviewed evidence of the effectiveness of EQ training.
We'll also look in detail at each of the four stages of RocheMartin's EQ training programme, explaining the purpose of each stage and how each stage is proven to improve each participant's Emotional Intelligence skills.
So if you're looking for a scientific understanding of our workshops and training, or you're looking to gather evidence about their effectiveness, this guide should be everything you need.
Emotional Intelligence continues to grow in popularity
Across the business world, leadership coaches and high-performing organisations use a variety of different psychometric tools to try to gain a competitive advantage. The aims are normally twofold: to improve the skills of their existing team and to identify potential recruits who can also bolster an organisation's performance.
But very few of these tools actually change behaviour. Most help people to build their self-awareness. But almost without exception, if you return to the same participants a few months later those learnings are doing nothing other than collecting dust. There is no long-lasting impact.
RocheMartin's Emotional Intelligence training programme is deliberately designed to be different. It is built by following the findings of the world's leading therapeutic literature, which suggests using seven key steps to fundamentally change behaviours. All of our EQ training programmes incorporate these seven steps:
Engagement
Benchmarking
Creating and sharing manageable and measurable goals
Modelling skills
Practising new skills and providing feedback
Providing follow-up support
Evaluating change
We know from our experience that this EQ training approach delivers measurable results in highly competitive business environments. But before we get into our results, let's explore the science behind our systems.
Understanding the foundations of Emotional Intelligence
More than 30 years ago, the first scientific articles about EQ began to appear in peer-reviewed journals. Peter Salovey and John Mayer (1990) led the exploration of EQ, referring to a constellation of abilities through which people dealt with the emotions of themselves and others.
At the same time, Daniel Goleman was gaining huge attention for his work that formulated EQ in terms of a theory of performance based on emotional competencies. His work was later further refined by other leading researchers including Reuven Bar-On who defined EQ as "an array of non-cognitive capabilities, competencies, and skills that influence one's ability to succeed in coping with environmental demands and pressures."
And while most empirical research used either the Goleman or Bar-On models of EQ to further their understanding of the field, these models were not designed to measure leadership behaviour. That's where RocheMartin filled the gap.
The scientific development of RocheMartin's Emotional Capital framework
RocheMartin's Emotional Intelligence training programmes are built on participants understanding, assessing and developing 10 core competencies. The competencies are not without foundation. They were identified after a decade of our own research and analyses of the last two decades of academic and scientific peer-reviewed work. The 10 core competencies we use are:
Self-knowing

Self-confidence

Self-reliance

Straightforwardness

Self-actualisation

Relationship skills

Empathy

Adaptability

Optimism

Self-control
We used these competencies to shape the development of our Emotional Capital Report (ECR), which is now considered one of the most advanced Emotional Intelligence assessments anywhere in the world.
"The ECR is more than just a tool and RocheMartin has a very clear process of how you provide that feedback. People in our organisation have said that it's the best 90 minutes coaching in their career to-date."

Diane Hogbin-Mills, Executive Programmes Manager, Network Rail
Once we had developed the ECR, we used a normative sample of 3,240 participants to standardise scores across the ECR and five other well-validated inventories.
The findings of that work revealed minor differences between males and females on at least two of the ECR scales. Age-related differences were also discovered, and these differences had a moderate effect on four scales of the ECR as well as the total Emotional Capital score. Having identified these differences, we are able to take these differences into account when interpreting participant scores.
Next, we used Cronbach's alpha to assess the reliability of the ECR. For all of the measured scales, the average Cronbach alpha coefficients are high – ranging from .72 for adaptability and self-actualisation through to .85 for self-confidence. These scores support the reliability of the ECR.
Finally, we needed to establish if the ECR is capable of correctly identifying behaviours associated with leadership. We administered the ECR to three groups of high-achieving leaders. One group belonged to Leadership Victoria, an elite group of business leaders in Australia. Another group were identified as 'high potentials' within the financial services sector. And, finally, the third group was made up of HR professionals operating in the pharmaceutical industry.
When the scores from these three groups were combined, all their ECR scores were significantly higher than the mean – suggesting that the ECR is capable of correctly identifying behaviours associated with leadership.
It's important to look beyond the science, too
Firms of Endearment, Raj Sisodia's groundbreaking study, is another example of the evidence associated with EQ. It found that 72 firms with high levels of EQ outperformed the S&P 500 by a factor of 10.5 times over a 15-year period.
Ultimately, the real-world impacts of Emotional Intelligence training is the metric against which most organisations will judge the value of their investment. That's why we're so proud to have so many enduring, long-term relationships with businesses that repeatedly see the value of robust, scientifically-proven EQ training. The ECR is trusted to build EQ in some of the world's most prominent organisations, including:
Deloitte

Oracle

Ernst and Young

Sky

Shell

Vestas

PWC

ICON

Coutts

ExxonMobil

Boeing

Singtel

Optus

Mars

RCSI

Google

Allianz

Randstad

EasyJet

Quiksilver

BNY Mellon
Why do all these organisations invest in RocheMartin's EQ programme? Because it works. They've seen the results, felt the impact, and decided they want to invest even further.
EQ is now an essential part of any leader's toolkit
Emotional Intelligence is not a fluffy, undefined soft 'skill' that cynical business leaders can simply write off as the latest fad. It is a clear, systematic and proven way to improve the performance of organisations large and small, operating in any industry or any geographic region.
Decades of academic and scientific peer-reviewed research have refined our understanding of EQ even further, and the ECR takes that knowledge to the next level. It is trusted everywhere because of the results it gets.
Ready to start your own journey with Emotional Intelligence training? Book a free consultation today.